David L. Coran, M.D.
Orthopedic Spine Surgeon
Dr. Coran is a board certified orthopedic surgeon with specialty training in the treatment of disorders involving the spine.
Dr. Coran's area of expertise includes the treatment of:
Lumbar Disk Herniations
Cervical Disk Herniations
Cervical and Lumbar Stenosis
Scoliosis – Children and Adult
Kyphosis
Spondylolisthesis
Sports Injuries
Fractures
Tumors
Work-Related Injuries
He has extensive surgical experience with microsurgical techniques; minimally invasive surgery of the spine, spinal fusions, total disk replacement, deformity correction, and motion preservation procedures.
Dr. Coran started his spine practice in Milwaukee in 1997. He is a graduate of Harvard College. His formal medical training includes:
Medical School
The University of Michigan
AOA Medical Honor Society
Lange Award for Outstanding Medical Student
Gardner C. Child Award for Outstanding Surgery Student
Orthopedic Surgery Residency
Harvard Medical School
Combined Orthopedic Program
Received Max Tennis Award for Outstanding Patient Care
Pediatric Orthopedic Fellowship
Boston Children's Hospital
Harvard Medical School
Spine Surgery Fellowship
Rush Presbyterian St. Luke's Medical Center
Dr. Coran is uniquely trained with fellowships in both pediatric and adult spinal problems.
One of Milwaukee's 2013 Top Rated Doctors
Milwaukee's Lifestyle Magazine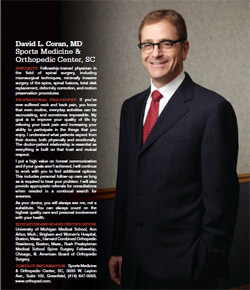 David L. Coran, M.D.
Sports Medicine & Orthopedic Center, S.C.

3033 W. Layton Avenue
Suite 102
Greenfield, WI 53221

[javascript protected email address]

(414) 647-0079